A lot of folks think that down here in the south, things are a little slower and a little quieter. I mean, they are but a lot of people think that, too.
Having grown up in Virginia and North Carolina, I always have a healthy appreciation for when television gets the setting of the Southern United States correctly. I'm not kidding when I tell you that the humidity is a living, breathing organism down here. June, July, and August just sits directly on your shoulders, laughing as it whispers the cooling thoughts of September, October, and November directly into your ear. We have beautiful coastlines that welcome visitors to share our sea feasts and our trees, mountains, hollows, and fields are a green majesty to behold. Who could ask for a more beautiful setting? These are the five shows set in the south that definitely get it right:
The Walking Dead
It's no secret that I am a huge fan of The Walking Dead. Everyone in our family loves horror so we were always on the lookout for good horror movies and shows. My daughter had read the graphic novel when she was a teen and could NOT wait for the show to come out. We watched it from the very beginning and still do today! I love that the show moved between Georgia to Virginia so seamlessly and I was completely immersed into the world because the setting was so spot on. The characters are incredibly well-written and I have loved watching them evolve and change over the years. I am still sad about characters we have lost but still excited about the new ones we meet.
A Different World
I was a teen in the 90's and one of the most popular shows at the time was A Different World. It tells the story of Denise Huxtable from The Cosby Show and her time at Hillman College. We never missed The Cosby Show in my house as I was growing up and I couldn't wait to see Denise Huxtable take on college as I was planning to go soon. That show gave me so many laughs and insight about what I might soon face in the future. It still holds a special place in my heart today. I loved seeing a lot of characters who seemed like they were taken right from my part of the world displayed on screen.
Reba
The country music fan in my house growing up was my mother. I am one of the anomalies of the south that does not enjoy country music. While it isn't my favorite, my mother and aunts made sure I got comfortable with what they considered the good ones: Patsy Cline, Reba McEntire, Dolly Parton, Mary Chapin Carpenter, to name just a few. The Reba show became a constant in my own family home during its run. My husband, son, daughter, and I watched it together and laughed and laughed. I loved how they made having a blended family so realistic and so funny at the same time. We lived in Texas during this time so the setting was exactly like what we saw around us every day. It was a great show with great laughs and all four of us make endless references to it in conversation still today.
The Golden Girls
When I was young, The Golden Girls was my grandmother's absolute favorite show on television. She did not watch a lot of TV but every time we went down to visit, we definitely watched The Golden Girls. I didn't get everything that was funny about it until later in life, but the things I did get made me laugh with her. It was absolutely true to form as to the different types of personalities you meet down in Florida! The good memories of my grandmother's enjoyment of the show along with the jokes that I did get when I got older makes this one of the best shows set in the south.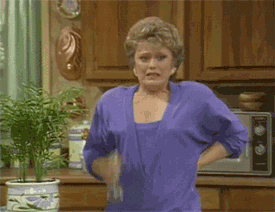 Since we are talking about good grandmother memories, I want to give an honorable mention to the series, Dolly Parton's Heartstrings, produced by Sam Haskell, executive producer of Mississippi Rising, The Concert in Support of the Hurricane Katrina Recovery Efforts. Dolly Parton stars in a Netflix mini-series that tells the stories of her life, from her humble beginnings to her greatest successes! My grandmother told me a lot of the stories about her when I was younger, but it was great to see Dolly star in her own show and tell her own stories!
American Horror Story: Roanoke
This is my number one choice for so many reasons. I have loved American Horror Story since the very first episode. While American Horror Story: Coven absolutely nailed Louisiana, I actually think they got it the best for American Horror Story: Roanoke. When you are from Virginia and North Carolina, everyone has a theory about The Lost Colony. It is the biggest mystery in our area and I think everyone will endlessly wonder what happened to them. I was immediately struck by how much history and folklore they could jam into the show while getting the mood of this area perfectly!
What are your favorite shows set in the south?